Wichita Standard Ventilated Clutch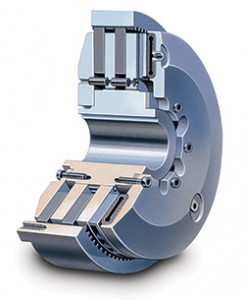 The Wichita Standard Ventilated Clutch is designed for reliable in-line power transmission. The simple air-tube design, with small air volume, speeds engagement and disengagement. It is unaffected by centrifugal force and has no self-energization like drum clutch designs. Ideally suited for large inertia loads where
smooth controlled starts are needed.
The Wichita air-tube disc design combines all the best features of a disc type clutch with all the advantages of direct air engagement. It is the simplest and most trouble-free method of applying air pressure yet designed.
Problems of speed, smoothness, engagement or disengagement with all types of loads…problems of compactness …problems of simplifying main te nance and many other problems in a wide range of applications are quickly solved with Wichita clutches or brakes.