Wichita Combination Clutch/Brake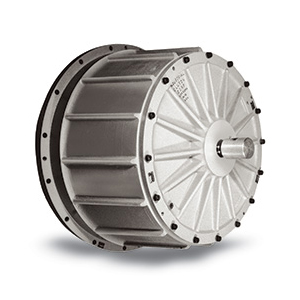 The Model CBA combination clutch-brake is an oil immersed unit utilizing a self-contained cooling oil-pumping system and capable of being actuated with either air or hydraulic
pressure.
These units are capable of running at higher speeds and greater cyclic frequencies without exhibiting the wear magnitudes common to clutches and brakes operating dry under the same conditions.
Reliability and longevity are the most important features these units have to offer and find usage in those applications requiring the ultimate in clutch and brake performance.
Over fifteen years of field experience shows intervals between maintenance and machine up-time to increase from five to ten times when oil immersed units are used as direct replacements for those operating dry.
Industrial Clutch Products has designed the Model CBA unit to be compatible and complementary to their dry unit products. All of the desirable features found in our standard
line of dry products were carefully evaluated for incorporation into the Model CBA combination clutch-brake.
The user may expect the lowest possible driven inertia; fastest speed of response; and the same high quality ruggedness contained throughout our product line.
The Model CBA unit was designed and developed as part of our commitment to provide wide ranging and usefully products for the heavy industrial marketplace. As a result, the user has another level of performance from which to choose.