Wichita LK Clutch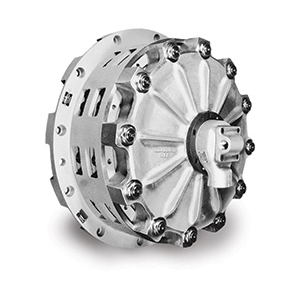 The Wichita LK Clutch and brake has evolved over many years as a perfect choice for applications requiring rugged and efficient clutching and braking of tough and unusual type loads. The design incorporates an extremely low driven inertia, highest torque capacity per envelope size, and the quickest response with minimal air consumption of any clutch or brake available. It is particularly suited to those applications requiring frequent cycling and long life such as is found in metalforming or indexing applications.
The Wichita LK Clutch components are arranged simply and efficiently.
 Drive ring with integral drive studs.
 Lined friction discs with internal drive splines.
 Driving center plate with integral separating springs.
 Driving pressure plate with integral separating springs.
Actuating piston and seals.
Actuating cylinder with integral rotary seal and QRV.
Externally splined inner hub (not shown).
Whether the application is in metalforming, oilfield machinery, cranes, or shovels, the LK low inertia design is an ideal choice for end of shaft mounting arrangements.