Wichita Clutch Mistral Tension Brake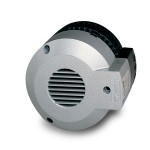 Call or Email for more Information
Wichita Clutch Mistral Tension Brake is attuned to the needs of the corrugating market for which it was originally designed. It is also a versatile product which is finding favor in addition al tensioning applications. Wichita designers and engineers consulted extensively with mill roll stand manufacturers and users to offer a tension brake ideally suited to the needs of this particular market. The result is a compact, high performance, versatile brake ca pa ble of handling the tensioning needs of the latest machine designs, as well as existing equipment. Wichita Clutch Mistral Tension Brake paves the way for increasing line speeds by 5.4 ft./sec. from 810 ft./min. (or slower) to 1,140 ft./min.
Compact Design, Modern Styling
Wichita Clutch Mistral Tension Brakes are compact at only 11.6″ or 16.1″ in diameter. Their size facilitates the pickup of small, part reels used in short batch runs. For automatic reel loading machines, Mistral offers optional infrared and speed sensor installation within the brake. And their modern, industrial styling enhances the appearance of any machine on which they are used.
Wear Indicator
A brake wear indicator, which is conveniently located for easy visual inspection, means no down time to check remaining friction material life.