Wichita Clutch Motor RB Tension Brake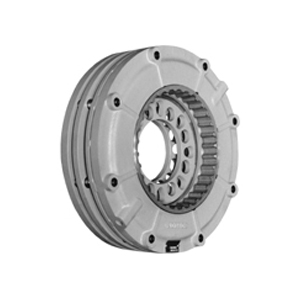 MODEL RB REEL BRAKE DESCRIPTION
Wichita Clutch Motor RB Tension Brake was originally designed as an economical modular brake for use on reels as an alternative to electric brakes.
The unique modular design allows either a single or double disc unit to be installed within the same mounting bolt circle by simply changing the stud extensions and adding or removing the appropriate components. Conversion kits are available for this purpose.
The Model RB brake exhibits quiet operation, consistent torque capacity, long life, and the ruggedness necessary for emergency stops at an economical price.
LKV VARIABLE TENSION BRAKE
The Model LKV variable tension brake incorporates an auxiliary cylinder/piston which can utilize either pneumatic or hydraulic pressure to vary the torque of the brake. This pressure may be introduced intermittently or continuously
depending upon the application. A threaded adjustment sleeve, such as is used on the LK constant tension brake, allows a fixed pre-set torque to be maintained with zero actuation pressure and also takes up for wear.
LK CONSTANT TENSION BRAKE
The Model LK constant tension brake is a spring-loaded brake with a manual threaded adjustment sleeve. This sleeve allows the brake to be adjusted while the brake is running and takes up for wear. Once set, the brake torque is constant until wear accumulates to the point where an adjustment is required.
LK OR LKV MOUNTING PLATE
The Model LK and LKV brakes are mounted to the machine with special mounting plates. The mounting plates incorporate
flexible fingers to take up for wear and must be mounted with the fingers in tension. The direction of rotation must be specified to allow the proper selection of either a RH or LH mounting plate.