Wichita LKM Clutch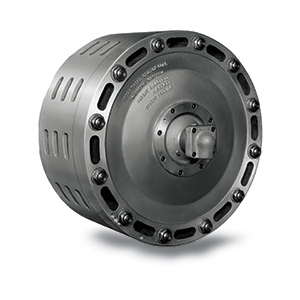 The Wichita LKM Clutch marine clutch incorporates many of the features found in our Model LK clutch series with some notable exceptions. Cyclic applications, where the LK style finds its most frequent use, contain duty cycles which bear little resemblance to marine main propulsion service. Marine clutches are required to make infrequent, yet in some instances, severe engagements from a heat standpoint. The clutches are also called upon to run for extended periods in the engaged position (ahead clutches) and for extended periods in the disengaged position (reverse clutches).
The Wichita LKM Clutch clutches were rugged enough to handle the load duty cycle from a torque and heat standpoint but required modification to their separation systems in order to be suitable for marine service. Industrial Clutch Products was the first to recognize the importance of positive plate separation for marine service and all clutches installed in marine service contained this feature. Disc clutches for marine service without positive plate separation have experienced a sad approval rating from users.
This is particularly true in forward/reverse service where, strangely enough, the unloaded reverse clutch gives the greatest degree of trouble. Because of the gearing
arrangement, the outer members of this clutch rotate in one direction while the inner member rotates in the other. This gives rise to the term "twice relative rotation." The cant of the gear to which these clutches are mounted in order to align with the propeller shaft as well as vessel motion due to wave action causes the clutch plates, if not positively separated, to kiss and wear or burn-out. Exactly the same result would occur if one were going down the road in an automobile at a high rate of speed with the brake pedal lightly depressed.
To eliminate this, Industrial Clutch Products designed and patented positive plate separation which has accrued over 30 years of field experience in marine main propulsion service. The separating system is self-adjusting for wear and no adjustments are ever required by the user during regular use or during routine maintenance. No plate contact can occur with this unique positive plate separation system and the many advantages of the disc clutch can be fully realized for marine service.
The incorporation of positive plate separation, a bearing cavity for the outboard quill bearing, and modifications made to increase the load carrying capacity on a continual basis changed the time-proven LK design into the Model LKM marine clutch